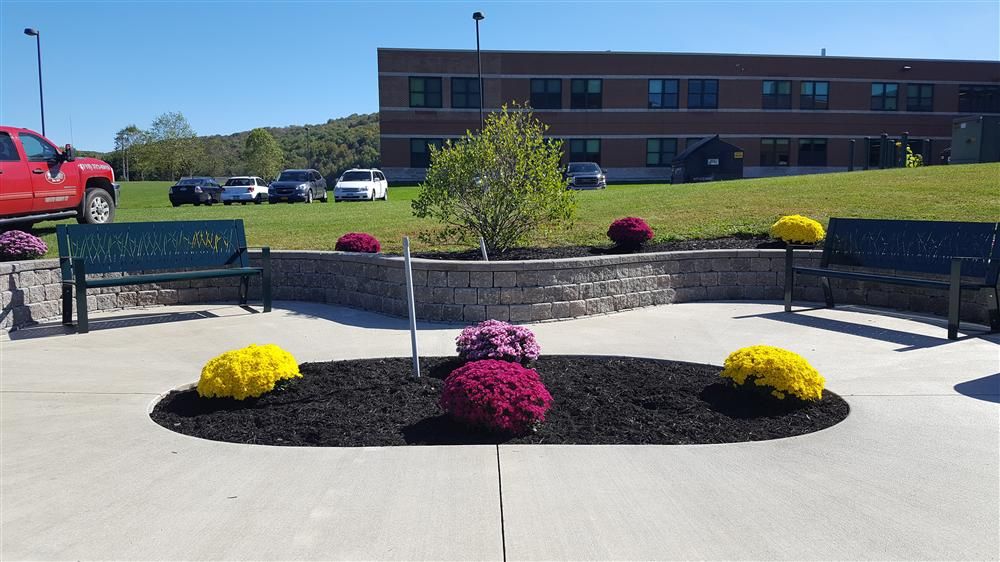 What is a healing garden?

"The Kaplans and Roger Ulrich have provided much of the literature on how a landscape can be restorative (Severtsen, 2015). Providing a sense of fascination as well as a greater extent, separating users from distraction (Kaplans, 1998), reducing negative emotions, holding a person's attention, and blocking stressful thoughts(Ulrich, 1981) have all been shown to occur in natural landscapes."

Our campus is surrounded by beautiful, peaceful, and restorative landscapes, but all too often we take it for granted. It is easy to get caught up in our busy schedules without stopping to appreciate the beauty that surrounds us, or to allow ourselves to be renewed by it. The purpose of our Healing Garden is to provide an area that promotes quiet reflection while embracing the vistas from our campus.

The term healing gardens is most often applied to green spaces in hospitals and other healthcare facilities that specifically aim to improve health outcomes. These gardens provide a place of refuge and promote healing in patients, families, and staff. You can, however, find healing gardens in parks, corporate office complexes, housing developments, schools, and municipal grounds.

According to two leaders in this field, Clare Cooper Marcus and Marni Barnes, healing comes because the gardens promote relief from symptoms, stress reduction, and improvement in overall sense of wellbeing and hopefulness. Students and staff will be able to use our Healing Garden as a place of quiet reflection and contemplation. Everyone experiences stress, and the people in our Gator community who are working to make our garden are committed to helping all of us through our stressful and difficult times.

Cooper Marcus. C. and M. Barnes. 1999. Healing Gardens. New York: John Wiley & Sons.

Kaplan, R., Kaplan, S. and R. Ryan. 1998. "Restorative Environments" in With People in Mind. (pp. 67-77). Island Press.

Severtsen, Betsy, 2015. "Healing Gardens," website: http://depts.washington.edu/open2100/pdf/2_OpenSpaceTypes/Open_Space_Types/healing_gardens.pdf

Ulrich, Roger S. 1981. "Natural Versus Urban Scenes: Some Psychophysiological Effects." Environment and Behavior, 13 (5): 523-553.